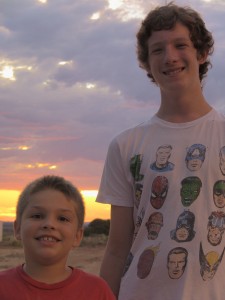 If you are lucky, once in awhile, a cosmic occurrence confirms that there are greater powers at work beyond your immediate understanding.  The Lewis boys experienced that very thing in White Cliffs, NSW.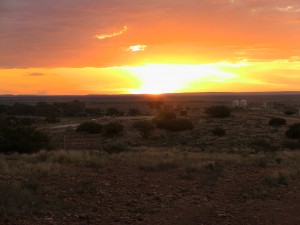 The RFDS (Royal Flying Doctors Service) suggested we take the weekend off and head to White Cliffs for the weekend.  They let us borrow the 4X4 and off we went – on a three-hour drive through the outback, in search of adventure and kangaroos.
We pulled into the tiny mining town and found our hotel.  The famous Underground Motel.  Yes, the entire hotel is underground…. way underground.  With just a light shaft to brighten the room in the daytime, these rooms are kept cool by the mere fact that they are so underground.  Being a tad claustrophobic, there was definitely an adjustment period for me… some deep breathing and Jedi Mind tricks.  The kids needed no adjustment period.  They just plain loved it.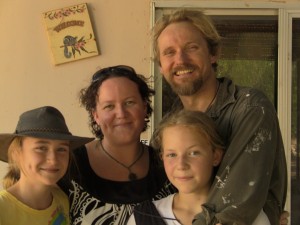 We loaded the bags into our room and headed out to explore the downtown area of White Cliffs that consisted of a pub, convenience store, and the opal mine fields.  We had seen a sign for Red Earth Café, and being in dire need of a cappuccino, I dragged the kids in that direction.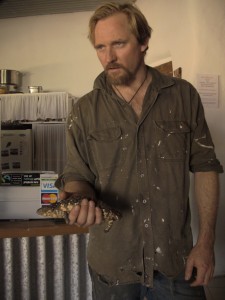 When we arrived, a young Liam Neeson look-alike met us at the door.  He acted as if he were expecting us.   "Oh!", he said, "You're the guys that are traveling around the world.  We've heard about you".  The boys and I look at each other, a bit full of ourselves, and acknowledged our new found fame.  See, we had just been in the local newspaper, that apparently everyone in town reads and were used to a bit of attention.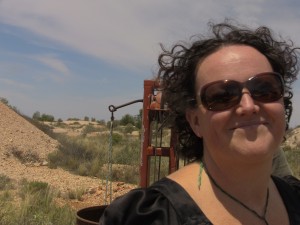 Then Liam's wife arrived… Mother Earth incarnate.  Sacha was a walking Déjà Vu experience.  Having never met her, I instantly felt like I knew her and our conversation flowed as if we were old friends.   Sacha explained that she was expecting us to stop by… which I thought was a bit eerie.  And then she talked about how her husband (his real name, Graeme) was an opal miner and used a divining rod and his intuition, to find his mother lode.  I thought, "These guys are hooked up… big time".
She then asked us if we would like a tour of their home – one of the largest underground homes in the area.  It was amazing, with tons of bedrooms all under the bedrock of White Cliffs.  They have five kids… three currently away at school.  They are an "Outback Brady Bunch".  She had two kids from a previous marriage and he had three.  Sacha explained that her daughters were students of "School of The Air" and had watched us on the Internet during the last Friday's assembly.  We thought that that was pretty cool.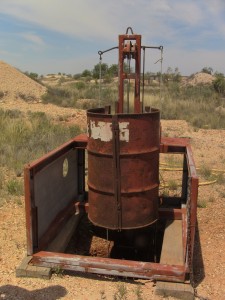 After a tour of their home and a great cappuccino, Graeme offered to take us down into his opal mine.   He instructed us to meet him up in the minefield in a half an hour.  We agreed and headed out.  When we found the place, Graeme arrived in his truck just as a huge cloud appeared overhead, bringing with it, a dust cloud, rain, and lightning.  We postponed the mining for the next day and off Graeme went in his truck.  The boys and I got lost in the minefield in the pelting rain and lightning, sure that we would be struck by the next flash of light.  We managed to find out way back to The Underground hotel, to hold up for the night.  There I discovered a note given to me by Alex at the RFDS.  I opened it up and there was a request from the owners of The Red Earth Café to come visit them, if we happened to pass through town.  How crazy was that.  They had no idea we were headed up that way, but Sacha and Graeme had extended an invitation to us… without even knowing our plans.  And without reading that note, we happened upon their cafe.  Which, of course, explained their welcome when we arrived.  Cool, eh?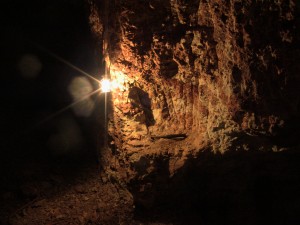 The next morning arrived, we had some breakfast and back to Sacha and Graeme's house.  Their daughters were there this time, having returned from a sleepover the night before.  The kids all hit it off.  We all loaded into the truck and 4×4 and headed out to the minefield, with a generator in tow… all 7 of us.
When we arrived, we were introduced to the oil drum of an elevator that would carry us down to the center of the earth in search of the always elusive opal.  The elevator shaft was just a bit larger than the rusty makeshift lift.  Sacha would go down the hydraulic lift first to make sure the lights were on and that there were no snakes.  Yikes!   Then, Jackson, the warrior descended. Then the two girls went down and then it was my turn.  Buck and I went down together.  With a pounding heart and chanting Jedi mind mantras, we were lowered into the bowels of the earth… and I mean the bowels of the earth.  It must have been 100 feet below the surface when the rusty drum stopped to reveal the inner workings of a real life opal mine.  Wow!  With lights working from the generator above, a magic world we had never experienced before was revealed to us.  A series of tunnels, big enough to stand up in, lay before us.  It was surreal.   Awestruck, the boys and I explored the caverns and Graeme even invited the boys to use a jackhammer and do some drilling of their own.  And yes, they both walked with a piece of opal!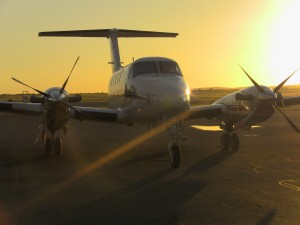 It was an exciting day for the Lewis family.  We then returned across the blistering outback to Broken Hill.  Before we left to return to Sydney, we cooked a BBQ for all the staff at RFDS and then we were honored at a dinner with the local Broken Hill Rotary Club. The following day, Buck and Jackson were invited to attend a day of school with the local kids.  They had a ball.  I boarded a plane with the clinic doctors for Tibooburra, a small town in a remote area of the outback.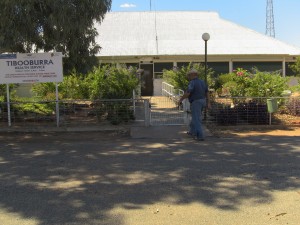 I joined the pilot, a doctor, a dentist, a woman health practioneer, and a psychologist for their weekly clinic.  It's quite inspiring, as this is the only healthcare these people see in their neck of the woods.  I met some interesting characters out there.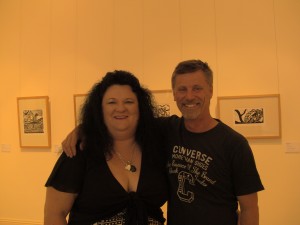 I have to include a shout out to Robin Nelson, a wonderfully talented artist that we had the pleasure to meet while in Broken Hill.  She had a exhibition of her work at The Broken Hill Regional Art Gallery.  I am a big fan of her work.   We are the proud owners of a RFDS inspired piece she crafted to honor the RFDS airlifting her daughter to Adelaide.  She also gave each of the boys original artwork and jewelry that she made. Thanks, Robin!   What a pleasure to meet you.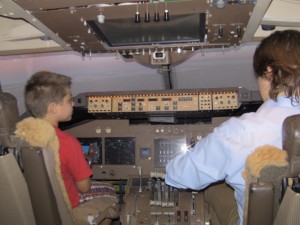 The boys and I flew back to Sydney, where we enjoyed yet another rare treat, hosted by the RFDS.  They arranged for us to fly an actual 747 simulator.  Was incredible.    Even got to fit in a lunch with my dear friend and remarkable cinematographer, Peter James, and long time pal, filmmaker, J.T. O'Neal  who was "down under" promoting his new film, The Soccer Nanny  (Au Pair, Kansas) at the Mardi Gras Film Festival.
As cheap airplane tickets would have it, we were routed through Dubai, United Arab Emirates, were we stayed for two days, checking out the sites… Very cool place. Visited the tallest building in the world.
And have now, after two full days of flying, arrived at our next location.  Ushuaia, Argentina!  We are in the south-most town in all the world… at the south tip of South America.   More to come.