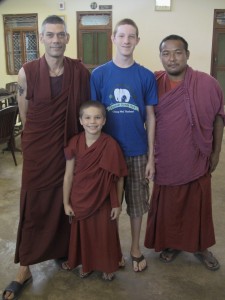 Leave it to the boys and me to find the one Tibetan Buddhist Monastery that has been ostracized by His Holiness, The Dalai Lama.  It really is a compelling story for all you who think Buddhism is about chanting, meditating, and living a life of compassion.
When we arrived here at Shar Gaden, one of the first things Jampa, the charismatic secretary of the monastery said to me was, "We are having some issues with the Dalai Lama".  I was taken back, as I was under the impression that His Holiness was the Kingpin of Buddhism.
Apparently a number of years ago, the Dalai Lama asked all of his monasteries to quit practicing a certain meditation called Dorje Shugden. My understanding is that the Dalai Lama's oracle, or guidance counselor, suggested to the His Holiness that they stop doing this particular practice.  Because Dorje Shugden has been perceived by some as more of the "fire and brimstone" approach to Buddhism, His Holiness decided to give it the ax.  It probably doesn't help matters that the deity they propitiate is a scary looking figure with three eyes, a human heart in his one hand, a sword in the other, and a wrathful look on his face.  Perhaps the Dalai Lama thought this menacing figure might scare some westerners away.  Therefore, he required all the monks of the Tibetan monasteries to sign a pledge that they would no longer participate in this very old Tibetan ritual.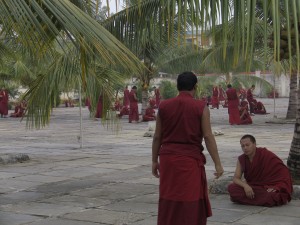 Here's where the Bad Boys of Buddhism, my friends and monks of The Shar Gaden monastery, come in.   It seems that the senior monks of Shar Gaden felt like discontinuing this practice was not in the best interest of their lineage.
They refused to sign the agreement… and apparently all hell broke lose.  Many followers of the Dalai Lama became enraged with the Dorje Shugden followers. At one point when one of the Dalai Lama's people was murdered, they blamed it on the group that chose not to sign the paper.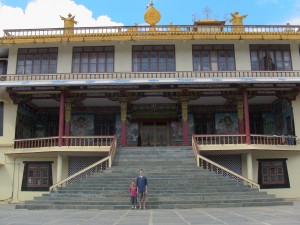 Cut to years later…  In this isolated area of south-central India where an entire community of monks live, there is a great divide.  As I walk down the street with my friend, Losang Tenpa, or as the boys and I call him, Monk Duke, he is glared at and in certain shops, they even refuse to serve him.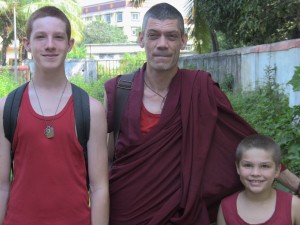 Monk Duke is a character.  He's from Minnesota and has been a practicing Buddhist for the last fifteen years.  He has recently committed his life to the "monkhood".    He is the perfect poster child for the Bad Boys of Buddhism.  He's a sort of James Dean of the Red Robes.  Rugged, with a past of drugs, alcohol and near death experiences… and I quote, "I have had a pretty crazy past."   Now he is a full-fledged member of Shar Gaden and the face of Western Buddhism in a sea of Tibetan and Nepalese monks.  He holds his head high when he goes into town, even though he knows that many are scrutinizing him.   He chose to side with the Shar Gaden lineage because his teacher, Geshe Tsultrim Gyaltsen, was determined to keep the Dorje Shugen practice alive.   Monk Duke said that,  "I have chosen to follow the teacher I have worked with for years. I have taken vows and commitments with this teacher, and my alliance is with him."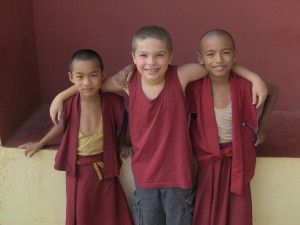 The whole thing is shocking to me… My idea of Buddhism was about losing the ego, getting centered and quiet, and finding enlightenment.  But it seems that things are a bit tense here in this area that was given to exiled Tibetan monks by the country of India.  Over the last few years, words have been spoken, rocks have been thrown and most disturbing, great walls built around each of the many monasteries in the area.  What's wild is that, after the split, the properties here were allotted in a strange way so that some of Shar Gaden's building are surrounding by building gained by the other monasteries that have issue with this group, making it an uncomfortable and tense living situation.
As an experiment the other day, Monk Duke and I visited a local store famous for not serving Shar Gaden monks.  I went in and smiled, bought some flip flops for Buck, and then Duke came in to buy some incense.  They wouldn't even look up at him.   So I piped in, "Hey, how much for the incense?" … they replied, "Forty Rupies", and then I said, "I'll pay for it."   They then smiled, took my money and when we went to leave, the man behind the counter and Monk Duke exchanged a smile.   I felt like it was one step closer to Nirvana and I had done my small part to bridge a chasm between the two factions.  Who knows… that simple meeting of the minds could have been the beginning of the reunification of the Tibetan Buddhist Federation.   Or maybe not… I think it's going to take more than a westerner's smile to sort things out here. I'm thinking of coming back next year and shooting a documentary on the subject.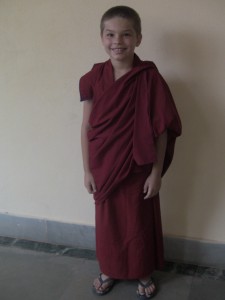 None of the controversy seems to have affected Jackson or Buck's experience of this place.  Buck instantly joined in on a game of Futbol with the younger monks. Kunga, one of the senior monks and a great character, took a liking to Buck and presented him with his own red robes.  Yes, Buck spent his entire time dressed as a monk and sitting in on the meditations.  He really took to it.  He learned how to fold and wear the robes and also how to recite some of the mantras.  Monk Duke even presented Buck with his own prayer beads, which he proudly wears to remind himself of his time at Shar Gaden.  What an amazing experience for an 8 year old boy, eh?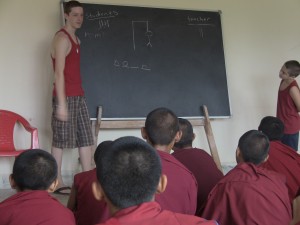 Jackson jumped right in helping out with Monk Duke's English classes. They all laugh when they hear his name because of Michael Jackson.  These young monks can play a mean game of English language hang-man.  And here's some refreshing news, when we were practicing conversational English with them, we discovered that none of them knew who Lady Gaga was.  How refreshing is that!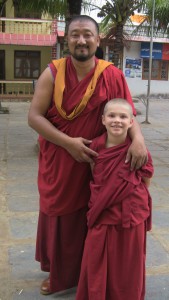 Our experience here has been eye-opening and truly delightful.  We have made some great friends, had the opportunity to live with the monks and see their lives first hand, and have been able to discovery the beauty of monastic living.   If the Dalai Lama spent some time with Monk Duke, Jampa, and Kunga, I'm sure they all could resolve this issue with compassion and loving-kindness.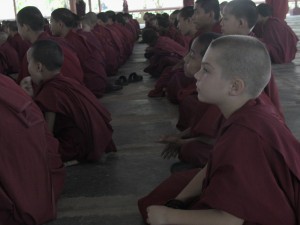 If you are interested in knowing more about the Monks of Shar Gaden Monastery, check them out on FaceBook.  They are in need of dedicated Pen Pals for the younger monks to practice their English with, and also English language books.  Please let me know if you are interested in helping them.