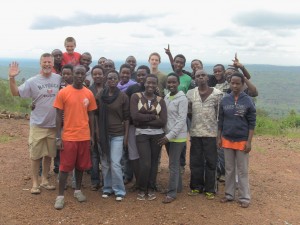 The boys and I have had the most extraordinary experience in Rwanda.  We wrote a one-act play about the First High School of Performing Arts in Rwanda with the teens from The Agahozo-Shalom Youth Village. With traditional music and dance, we wove in some hip-hop and modern music and spoken word.  We performed it in the Amphitheater in the village.  It was amazing.  They tore it up!!!!  So exciting to watch. Every last one of them (20 actors in all) blew my mind. So gratifying for all of us.  We wrote the piece from scratch with the ideas of these students.  Every subject from Love, Friendship, Betrayal, Conflict, The Genocide, Discipline, and Passion.  My dear friends Medea and Longine saw to our every need and we miss them terribly. I'm hoping to have Medea come to Charlotte to do a Rwandan Dance and Singing workshop at NorthWest School of The Arts next year.  I think the kids would benefit from her talent and her story… she was a survivor of the Genocide.
Once more the hardest part is saying goodbye.  These teens have been our family for the last 3 weeks.  Each one of them has made a difference in our life, truly. After the show we had a "get together" and they all shared what they had learn from the experience.  It reminded me why I'm an artist.  They said that they learned passion was an important part of life, that speaking up and being heard is giving a gift, that discipline is important in the process, and that love and acceptance is the answer. Wow!  Nearly bawled my eyes out.  These kids are the future leaders of Rwanda… remarkable spirits.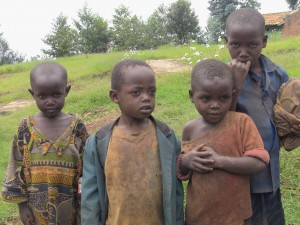 So once again, we packed our bags.  We headed to a school in the north of Rwanda called, "Mwiko".  This particular school has no running water or electricity. With the help of Francis and Danny, our incredible hosts, we had a remarkable time in the town of Musanze. Each morning we headed to Mwiko Primary School, set on a mountain top between two pristine lakes… Gorgeous!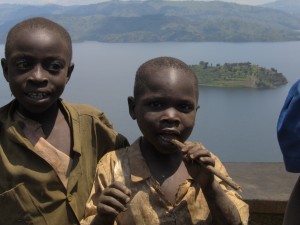 But even more gorgeous, were the kids…  I can't describe the joy and wide open spirits of these kids. Shy at first, they each unfolded before us to allow us into their amazing world.  These kids live with the bare necessities, but have taught us a substantial lesson…. that happiness cannot be bought.  They LIVE joy.  They are all in need of scholarships to go to secondary school. For $2,000 a year, you can help a child get an education in Rwanda that will change the course of their lives.  Twelve In Twelve is committed to help in that department.  If it sounds of interest, please let me know. Needs are great….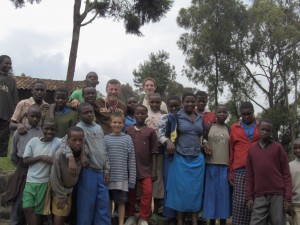 The kids of Mwiko and I shot a movie together… they were able to shoot with my camera and we came up with something we were all proud of….   I will post it shortly.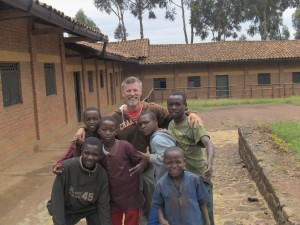 Thank you also to Mothering Across Continents (www.motheringacrosscontinents.org), who helped us arrange our visit to Mwiko.  They are doing wonderful things for the school there.  We also had the great pleasure of meeting a man named Tom Allen, who has an organization called, "Bridge2Rwanda".  He's an American here in Rwanda, who has been instrumental in the development of many programs here in Rwanda. Please check out their website (www.bridge2rwanda.org).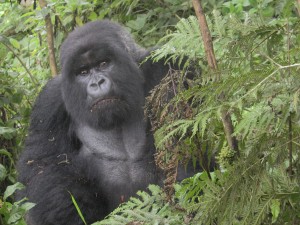 And if all that wasn't enough, we had the opportunity of spending time with Dr. Jan, the gorilla doctor!   She was awesome!  She shared with us many fascinating stories and insights into the world of the Rwandan Mountain Gorillas.  And then… I was able to go on a GORILLA TREK!  Yep… right up close… they brushed up against me!!!  Wild!   And yes, I took this picture and this Silver Back was right in front of me, checking me out.  The boys were too young and they have strict rules for visiting the gorillas… so I owe the boys a gorilla trek…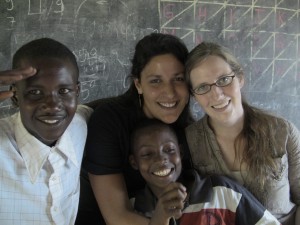 After sadly leaving Musanze, we returned to Kigali to lead a two day workshop for WeACTx… a program for kids living with HIV. We played games and did Improv…. danced, sang… laughed..  Thanks to Noam for all her help and inviting us to have such a meaningful experience with these beautiful kids.  They taught the kids and I songs, dance steps… but the most important lesson they taught was courage…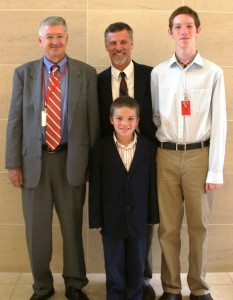 And if that wasn't enough of an experience in Rwanda, the icing on the cake was getting to meet His Excellency, Ambassador Koran.  We were guests at the U.S. Embassy in Kigali and sat and chatted with the charismatic Ambassador Koran. Many thanks to Susan Falatko, Public Relations Officer, who made it all possible.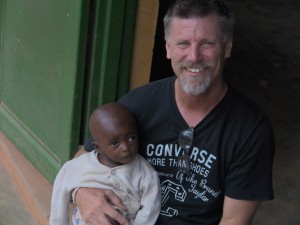 The smell, the earth, the sunshine, the tropical rain, the people, the warmth and the children will stay etched in our memory for eternity.  Rwanda is a special place that I know we will return to….  Getting on the plane now to Tanzania is bittersweet.  We have heard great things about Zanzibar … that's where we are headed to work at an Art School in a little town called Mangapwani. More to follow: