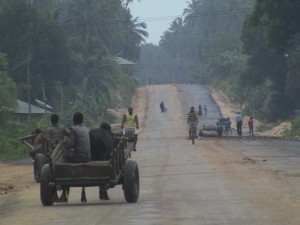 Our magical mystery tour continues to take us away!!! I guess I can't expect anyone to really understand the experience we are having.  I'm not sure I understand the impact fully myself.  All I know is that it is deep, spiritual, profound and it has changed the lives of The Lewis Boys.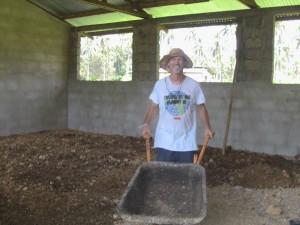 Since our last blog, we had the Art Festival at Creative Solutions, the school where the boys and I have been working in Mangapwani, Zanzibar.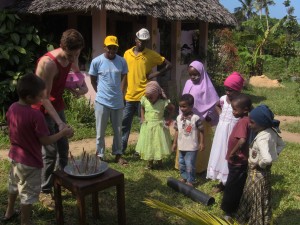 What a great time!  Jackson and I were in charge of the children's games.   We filled coke bottles up with sand and had a bean-bag toss to knock them off a pedestal.  We also had jam jars that you had to toss bottle caps into to win prizes.  The kids loved it.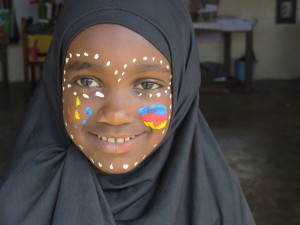 There was amazing local art, performance and dance, face painting and food.  The villagers from all around came from near and far to participate.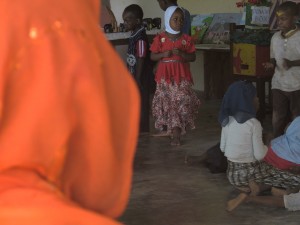 The sense of community was like my memories of summer camp.  Lots of interaction, conversation, laughter, games, food, stories and more.  And then it was late evening and it was over….  Fun was had by all.  We slept well that night under our protective mosquito nets, having eaten our fill and done the dance.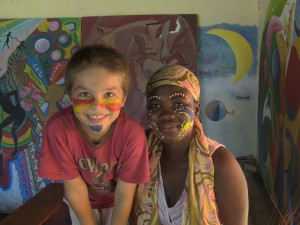 Saying good-bye to my class at Creative Solution was once again excruciating.  I had learned to love each and every one of them.  We were and are a family.  We have shared our life stories with each other, our struggles, our victories, laughed our heads off and, all the while, I did my best to teach them English…. And they in turn, taught me some Swahili.
The warm nights sitting around big wooden tables in open-air huts quizzing my eager pupils on the names of the continents, action verbs, and adjectives will stay in my heart for years to come.  And you know what?  We never finished class on time…ever.   We always ran over and we didn't want it to end.  Most of them lived miles away and would walk home by foot at 11pm at night.  I would go to bed exhausted but so incredibly satisfied with a renewed sense of purpose.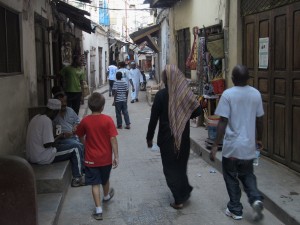 I took a day off and went into Stone Town.   Mbarouk, our fearless leader, visionary, and man I am happy to call my friend,  took me into to town on the back of his scooter.  It takes about 1 hour…. On dirt roads through some of the most beautiful countryside I have ever seen.  He introduced me to his mother who lives in the center of Stone Town in a small concrete home… though she and I couldn't speak each other's language, we "got each other" and she made me laugh and I adored her.
I managed to get a box shipped home and ran a few errands for the school and then went on an adventure through the narrow alleys of historical Stone Town.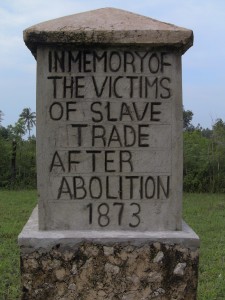 It was a hub for the slave trade back in the day and has an "old world" feel.  Little carts and tiny shops selling spices, fruits, vegetables, art and souvenirs…  All with an ocean breeze and wonderfully kind people smiling and trying to speak English with you.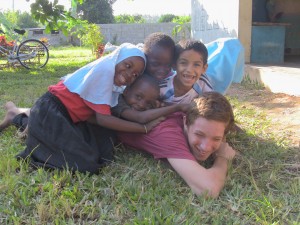 Jackson misses the ocean…. Jumping off huge rocks into the waves…  He misses his nursery school class that each morning pounced on him… and pulled his hair and hugged on him and made him laugh constantly.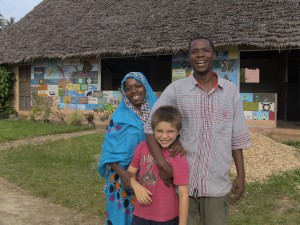 And Buck misses the cats, the chickens, the puppies, collecting bottle caps, getting up early and hanging out with his pal, Mbarouk. He misses Marina, Asha, and Margaret and his pal, Kibopa.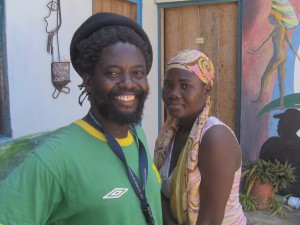 We all miss our friend, Kibopa…the coolest guy.  He is the main English teacher there, and an artist in his own right, from the mainland of Tanzania.  He will be a life-long friend for sure.  He took the time with the boys and I to explain so much of the Tanzanian culture to us.  He had also lived in America so he was familiar with our world as well.  He cooked great french fries from scratch and helped both Jack and Buck with homework.  We had the great pleasure of meeting his daughter Marina, as well.  She came over from the mainland to hang with her dad and us.  She is an amazing artist and a blast to be around.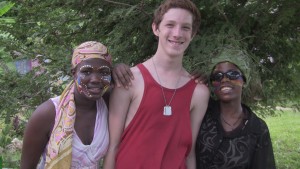 Also Margaret… the girl with all the joy!   The maker of puppets and a great actress who did a performance at the Art Festival that nearly made me wet my pants.  Thanks for making every day fun and energetic.  We miss you yelling… "J.D….. Jambo… Habari!".  And Asha and Khamis…. We miss you guys too!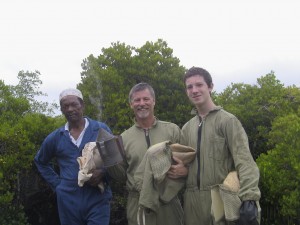 And another honorable mention…. One of my favorite students, Mr. Abdollah.  What an amazing man.  He's the man who showed up each night most prepared and ready to work.  He invited Jack and I to go visit his Bee Farm.  We donned our bee outfits and visited the hives in the swampy beach forest.  It was remarkable… then a tour of his local school, the beach where he and his family opened fresh coconuts with knives and offered us refreshing coconut milk, and then back to his home where his entire family greeted us with a sit down snack of delicious food laid out traditionally on mats on the floor in their home.  So cool.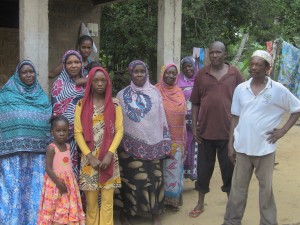 Thank you, Mr. Abdollah.  I was so fortunate to spend time with this man who works so hard in his community to make a difference, runs a large family and still had the time and energy to come to English class a few miles away for his house.  You are the best.
Our Zanzibar memories are so embedded  deeply in our hearts.  Talk about "The Love Revolution".  We couldn't have been made to feel more welcome.  The good news is Creative Solutions, Mbarouk, Kibopa, Marina, Margaret and the rest…. We will all see each other again, that much I know.  It is most certainly not our last outing to Zanzibar.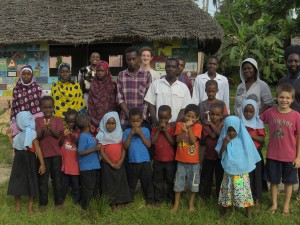 After tearful good byes, we headed to the mainland of Tanzania to spend a few days off for Xmas… just the boys and I.  We had originally made a reservation at a hotel on a little island off the coast of Bagamoyo.  Imagine our surprise when we arrived to find that they were overbooked and didn't honor our reservation.  And just a day before Christmas.  Arghhh…  Shame on the Lazy Lagoon!!
But knowing that the North Pole had an eye on us and feeling certain that we were on "The Nice List",  we were lead by the North Star to great accommodation at the Traveler's Lodge on the beach in Bagamoyo.  It ended up being perfect and Santa Claus managed to find us nonetheless.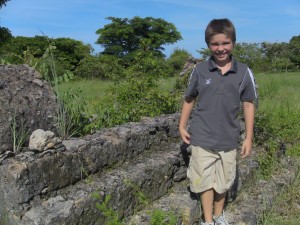 We went and visited 13th century ruins and walked around Bagamoyo, a little beach village.  
The boys and I met up with some of the local artists in the village and they showed Buck and Jack the ropes of Tanzanian wood carving. Very cool!   The Christmas spirit prevailed even though being in a Muslim country, there was little Yule tide décor.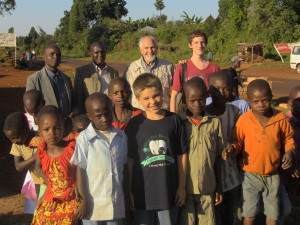 Now we have arrived in Nairobi and have been swept away to Kisii  (western Kenya) where we have joined Don Howard of Rotary International to work with students from 8 different schools in the area.  But that's the next blog by week's end.
Also, next week, we are being visited by our dear friends (more like family, really), Uncle Bo and Uncle Ed. They are coming from Charlotte to meet us here in Nairobi and then we will continue on with them to Cape Town, South Africa to continue our work at an HIV orphanage.  Very excited.  It will be nice to see some of our local tribesmen and apparently they are bringing us some "western world" supplies…. like Aleve, Clif Bars, etc.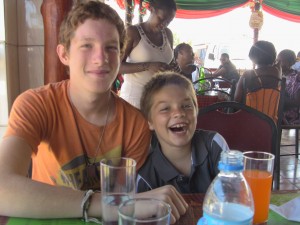 Know that we are safe, missing the homeland, wishing you all a very happy, healthy New Year and we will see you later in 2012!   Let the spirit of giving be on your list of New Year's Resolutions….  Help some one near or far…. There's a world out here who are in  desperate need  of a helping hand.   Let me know if you need suggestions.   I've got tons!!!!  Love you all.
Oh!   Watch out for The Parade Magazine next week, they are doing an article on us in their up-coming issue… and check out our interview on NPR. http://66.225.205.104/CT20111214.mp3  (We are the 2nd half of the show.)
Thank you for all your support!  The New Year has amazing things in store!  xxjd