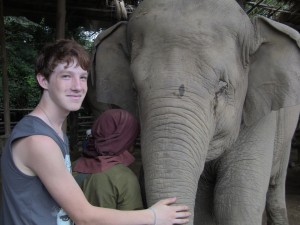 The boys and I have been working at The Elephant Nature Park, an hour and a half outside of Chiang Mai, Thailand.  And let me tell you…. elephant work is hard work!  We have learned so much about the struggles of the Asian Elephant and their fight against extinction. And we have met a woman named Lek Chailert, who has made us think differently about the elephant.
We have spent the last few weeks in the mountain jungles of Northern Thailand getting to know the Asian elephant.  In addition, the refuge also has nearly a hundred dogs, horses, an Asian Black Bear (that we hung out with and petted), water buffalo, and cats.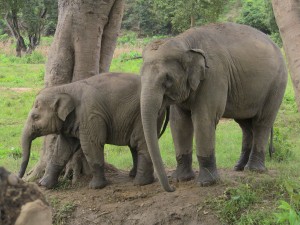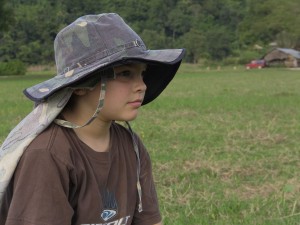 For those of you that don't know, the number of Asian elephants in the wild, and also in captivity, is diminishing rapidly.  Experts believe it won't be long before the Asian elephant is extinct.  Those elephants that are still alive and in captivity, go through a process called, "The Crush".  This is a means of "breaking them in" by very cruel tactics such as beatings with hooks, chaining the animals so there are unable to move, and even blinding the animals.  Any of the elephant working with the general public, have gone through this process.  It is a horrific, brutal ritual.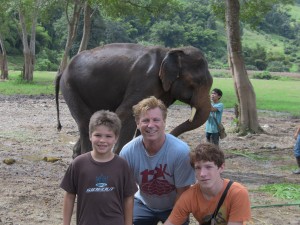 What we have learned is that elephants are meant to live in the wild.  Unfortunately, the elephant has been put to work in circuses, the logging industry (using elephants for logging is now outlawed in Thailand, but still very much a reality in Burma and other areas), street entertainment and in elephant entertainment parks and treks.  To be able to do this work, they are abused horribly into submission.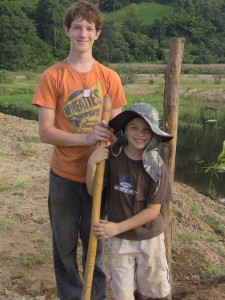 But the elephants have a refuge in the Elephant Nature Park.  An extraordinary facility created by Lek.  Lek has been recognized internationally for her work with elephants.  I had the great honor of getting to know Lek personally…  An extraordinary woman who I am proud to call a friend.  She came from simple means but had such a deep desire to help elephants that she has created a paradise for elephants and observers alike.  Lek rescues elephants…. blind, broken hips, aged, babies who have lost their mothers, elephants who have been deemed too dangerous.   She takes them in.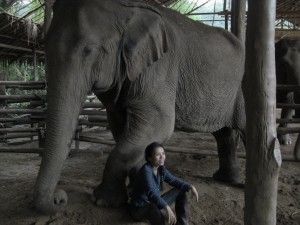 I have never, ever seen a woman interact with animals like this lady.  It's almost other-worldly.  The minute she arrives, the elephants come from everywhere to be in her presence.  The boys and I got to experience "lull-a-bye time".  This is where Lek actually sings to the baby elephants… beautifully, I might add, and get this…. she sits underneath them and leans against their legs.  And if that wasn't brilliant enough, she invited Jackson to join her.  There was my son, sitting with Lek underneath a baby elephant and it's mother, stroking it's leg and being part of something healing and holy.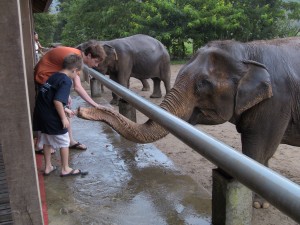 I love that my kids have a new found appreciation for these animals.   Jackson really connected with a number of the elephants and they seemed to "get him" as well.  Jackson has a gentle spirit that the animals seem to identify with.  He spent time talking with them, feeding them, stroking their ears, necks and trunks.   Buck just thought is was super cool to put melons in their trunk and watch them eat them whole.    He also got to use a machette to cut the melons… (under supervision, of course).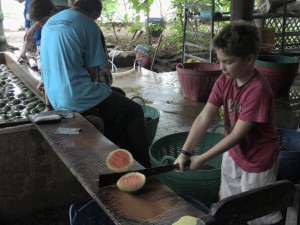 Lek and her husband, were so gracious to the boys and I, making us feel like we were part of the project there.   We were able to work directly with the elephants… washing, walking, feeding, following the veterinarian as he administered care to the animals.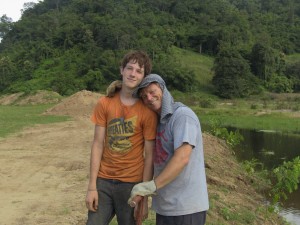 This sort of volunteer work is not for the weak of heart, or back, for that matter.  We shovel elephant poo, built fences, planted sugar cane, helped in the elephant kitchen making banana patties, scrubbing melons, using a machette to cut the fruit and filled baskets of food for the animals.  We even were able to participate in a "Save A Tree" program where we tied ribbons blessed by the monks in the area around trees.    We went to bed every night exhausted but so satisfied.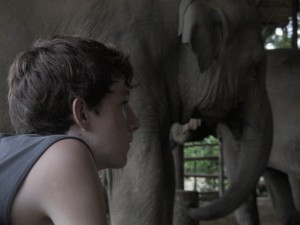 These majestic animals deserve our admiration and our protection.  We have learned that elephants are proud, protective, and very powerful creatures.  The kids and I will never spend a nickel again on circuses, elephant rides and anything related to the abuse of these incredible animals.
So, today is my birthday, and we are now in Phuket on the coast of Thailand… Tuesday we leave for India. We are going to see the Dalai Lama speak for 4 days in Dharamsala.  Very exciting.
Thanks for all the Birthday wishes!   Of course, more to follow…