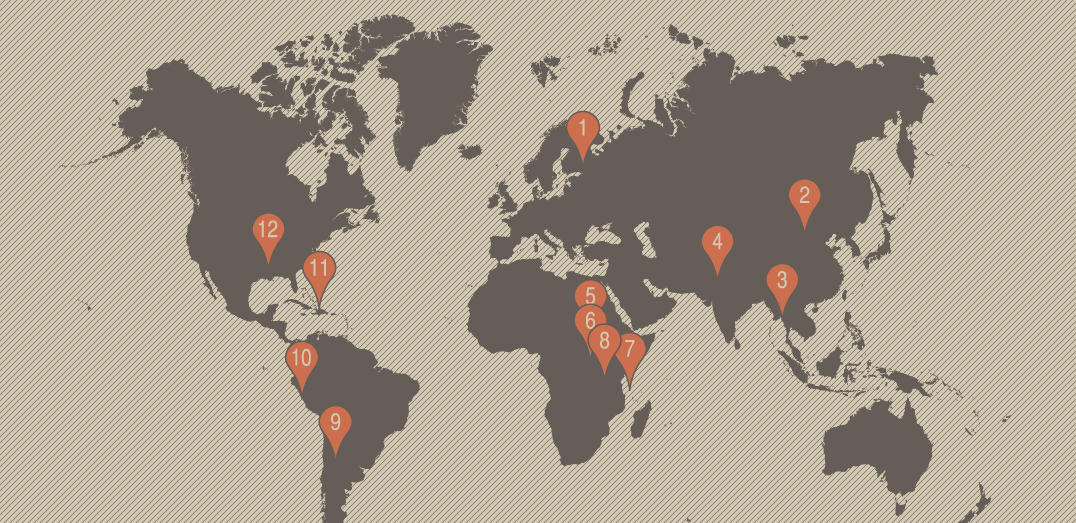 The Twelve In Twelve Foundation has made a commitment to help our friends around the world through the following worthwhile projects that encourage self-reliance, self-worth, and integrity.
1. Transit
St. Petersburg, Russia
An orphanage that takes in homeless children who have runaway to the city and helps place them back into homes. Offering food, shelter, and support to all of the children it houses.
2. New Hope Foundation
Beijing, China
A home for babies and toddlers, from government-run Children's Welfare clinics all over China. New Hope provides physically challenged children with a caring and secure environment, seeks out the best medical solutions for these children, and facilitates treatment.
3. Boonchu Home for Children with Special Needs
Sattahip, Thailand
A special needs orphanage for children. Located in a remote area of Thailand, the Special Education Center not only provides the resources necessary for healthy growth and education to the children that live there, but also provides a day program for local special needs children.

4. Gu Chu Sum (Refuge for Tibetans in India)
McLeod Ganj, India
Gu Chu Sum's primary aim is to provide food, shelter, financial assistance, medical attention, education, employment, and psychological support to former political prisoners.
5. Sunzu Village Community Center
Musanze, Rwanda
This community center offers educational support, a lending library, and community activities for children and adult in this remote area of Rwanda.
6. WE ACTx – Youth HIV program
Kigali, Rwanda
A free clinic offering highly integrated medical and psycho-social services for over two thousand patients living with HIV. Programs include confidential testing, nutritional support, and prevention of mother to child transmission.

7. Creative Solutions Art School
Zanzibar, Tanzania
An arts and education organization that provides alternative education through both traditional and modern systems. Course offerings year round in all areas including: the arts, English, and basic computer skills.
8. Nyumbani Orphanage and HIV Clinic
Kibera, Nairobi, Kenya
Nyumbani works on behalf of children suffering from the HIV/AIDS crisis. This organization offers support, medical care, and psycho-social care to all of the children it serves.
9. Refugio De Monos
La Cumbre, Argentina
This howler monkey refuge is the first and only center for the rehabilitation of primates in Argentina. The program consists of various stages of physical, psychological, and social rehabilitation. Teaching monkeys to be monkeys again.

10. Niños del Sol
La May, Peru
A home caring for twenty three orphaned and abandoned children. Casa de Milagro serves to nourish children's minds, bodies, and spirits while instilling in them a sense of self-esteem and self-worth.
11. Foyers Maurice Sixto
Port Au Prince, Haiti
A school and after school program created to serve restavek children. (Children in domestic servitude) They offer programs in music, theater, dance, and soccer.
12. Operation Upward
Jackson, Mississippi
An after school program for children that provides art programs, sports programs, and a food program to children that attend. Operation Upward is dedicated to empowering the spiritual, educational, health, and vocational development of youth and their families.